Lou Fusz AutoAwards Information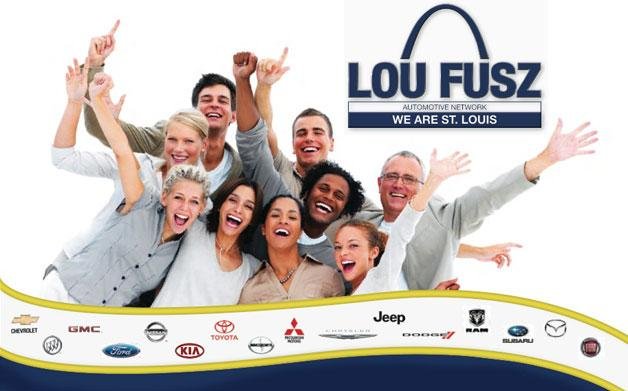 Dear Valued Customers:
Thank you for choosing Lou Fusz Automotive Network as your personal guide for purchasing your vehicle. In return, we pledge the continued committment of our staff to exeed your expectations... daily.
In our quest to achieve exceptional customer satisfaction, our dealership is proud to present the AutoAwards program. Your membership is complimentary with the purchase of your vehicle.
As an AutoAwards member, you are invited to enjoy thousands of dollars in exclusive benefits at our dealerships throughout St. Louis and the surrounding area.
From future savings on your next vehicle to valuable merchant discounts and elite travel benefits, we're sure you and your family will find plenty to love about AutoAwards. We invite you to take a few moments to read your membership handbook and learn about the exciting benefits waiting for youLou Fusz Jr AutoAwards
Sincerely,
Lou Fusz, Jr.

---
Loyalty means...
Saving up to $1,500 off your Lou Fusz vehicle with the swipe of a card!>
With the swipe of your membership card or key tag, you will earn 15% of every dollar you spend at any Lou Fusz dealership or affiliate location. This 15% can be used toward the purchase price of your next new or pre-owned Lou Fusz vehicle. Each points equals $1 in future discounts. When you are ready to buy or lease, simply present your valid Lou Fusz AutoAwards® card or key tag to your sales consultant and the balance of your Lou Fusz AutoAwards® points, up to $1,500, will be applied toward the price of your new vehicle.
How do I earn points?
Building your point balance is easy! You will earn 15% of all qualified purchases including retail parts and services, maintenance, and pro shops parts and accessories! Sorry, body shop and vehicle purchases do not apply. Simply present your vaild Lou Fusz AutoAwards® card or key tag to the cashier at time of payment. Your transaction history and point balance will be updated each night and tracked electronically.
Your AutoAwards® account has already been pre-loaded with 25 points.
Earn 50 bonus points the first time your card or key tag is swiped.
Earn 15% of all qualified purchases, including retail parts and service, detail, maintenances and accessories.
Automatically earn 150 points with the referral of a friend or family member to Lou Fusz.
Earn 100 points when you purchase the added security of an Extended Service Protect Plan.
Watch your mailbox, inbox or visit LouFusz.com for many other ways to earn bonus points.
How do I know how many points I have?
Your Lou Fusz AutoRewards® point balance is always a keystroke away! Check your account balance by visiting Lou Fusz AutoAwards Points Balance. Are points transferable?
SURE! If you have a friend or family member that would like to purchase a Lou Fusz vehicle and use your points to save, simply accompany them to the dealership when they are ready to buy. Your sales consultant will validate the points and apply them to their vehicle purchase. Don't worry, we will be glad to open you a new Lou Fusz AutoAwards® account and pre-load it with 25 points to get you started and 150 points for your assistance in the referral sale.
Can points be used in addition to rebates or special pricing??
YES! In most cases, the points you earn through Lou Fusz AutoAwards® are over and above manufacturer or dealer sponsored discounts. Incentives vary from model to model so check with your sales consultant for details.>
Can points be donated to charity??
YES! Want to buy a computer for your child's school? How about helping find the cure for Cancer, AIDS, Leukemia, or Parkinson's disease? If you choose, you may even donate the cash value of your points to the charity of your choice upon the purchase of your next Lou Fusz vehicle. Please notify your sales consultant at the time of purchase and we will mail a check on your behalf.